Contact
Since 2012 we are organizing 'Wake up in It'. We enjoy working on every part of our concept, and are always keen to hear what you think. If you have a question/suggestion, please call or mail us!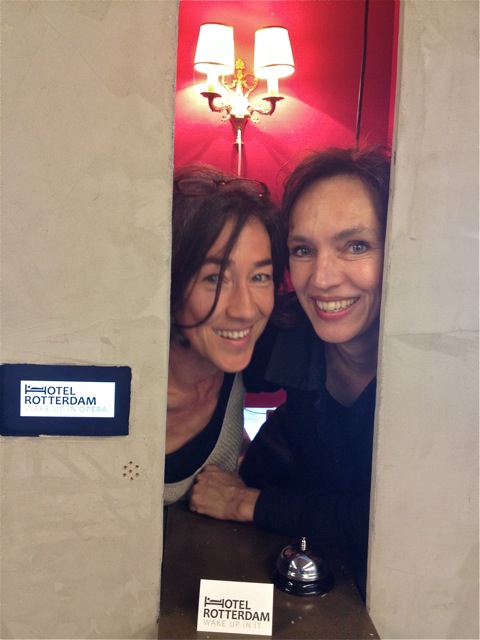 Wake up in It is organized and run by Judith van den Berg en Wibbine Kien. They started their first episode (Wake up in Art) in 2012. 'Wake up in Architecture 2019' is the 15th episode they run since then.
On the right: Judith van den Berg. Her educations as a psychologist and as an artist seamlessly fit together. She is inspired by everyday life, and organizes projects that influence the way we look at our surroundings and behaviour. These projects often take the form of controlled events in public spaces. See judithvandenberg.com. She also works as Superduo (meaningful & playful activities for various clients) Tel 00 31 (0)6 41468018 / info@wakeupinit.com
Wibbine Kien has worked as an art director in the newspaper business for 14 years. Here she grew a love for connecting talented people, opening doors and getting things realized. In 2011 this resulted in a desired career change. Nowadays she is active as a cultural caretaker and cultural programmer of forgotten monumental houses (Landgoed Nieuw Rhodenrijs, Slaakhuys, Pastorie aan de Schie) and working as an independent visual artist. Tel 00 31 (0)6 22796704 / info@wakeupinit.com
Privacy statement and cookies
Identity:
-This statement applies to the editions of Hotel Rotterdam, Wake up in It
-Contact details:
Judith van den Berg and Wibbine Kien
Rotterdam, the Netherlands
info(@)wakeupinit.com
Tel.0031 (0)6 41468018 and 0031 (0)6 22796704
What personal data do we collect ?
Email addresses
Home addresses
Phone numbers
How do we handle your data?
We handle your data with great respect. We never pass on email addresses or telephone numbers to third parties other then the creative professionals who function as hosts in our editions.
Legal grounds for the processing of personal data:
-Permission
When you give us your telephone number, your home address or your email address, and you want to be kept informed about our activities, we keep your data. That way we can provide you with information.
-Execution of an agreement
If we are deployed by you to make a match, we need your email address and telephone number for the execution of the agreement.
Social media
We have a Facebook page, a Twitter account and an Instagram page. We don't post pictures with people on them without permission. Now and then we use anonymized reviews.
How long do we keep data?
We keep email addresses as long as necessary for the contact we have with you. We hope to keep contact with you for as long as we work on Wake up in It. During the contact we have with you, we will ask you if we can keep your data. If you don't want us to keep your data, we will remove them from our files.
Your right
You can ask us
– what personal data we keep from you exactly
– to change or delete your personal data
Cookies
A cookie is a quantity of data that is stored and returned to the server on a subsequent visit. Our website places only 'functional cookies' and 'analytical cookies'. Functional cookies are placed by the website itself and can only be read by the website itself. These cookies are used for functionality of the site. Analytical cookies are used to track visitors on the website. They are essential in measuring the performance of a website and to optimize it.
Copyright
The ideas and project names that we are using are our intellectual property. It is not allowed to use those ideas and project names without our permission.